Reid Hemsing and Michael Mazur are the brains and bodies behind Two Wheel Gear, a traditional business with aspirations to become a proper, triple-bottom-line social business.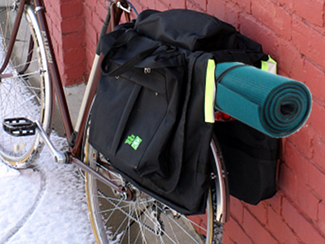 Founded in 1999 and located in Calgary (and Vancouver), Canada, Two Wheel Gear sells a unique bicycle pannier geared towards business professionals who commute by bike. This bag protects professionals' business clothing from creasing or getting damaged. And, is a far more elegant solution for transporting said clothing than the alternative suit-in-a-backpack approach.
Two Wheel Gear has grand plans for revamping its product line. It plans to redesign its classic pannier bag, and introduce a new courier bag.
The current bag was styled in the late 1990's using synthetic material and a utilitarian approach. The design of the new bag will be a completely different from the old, updating it for the modern commuter. It will feature organic dry wax cotton fiber that is highly water resistant. It will also be far more stylish, appealing to both the utilitarian and fashion-sensible commuter. The courier bag will also be styled with the same modern look and organic material, and open Two Wheel Gear's business to another urban cycling market.
These bags have been in the work for the past few months. Once ready, Reid and Mike will then begin marketing them worldwide.
So why does a blog post about Two Wheel Gear belong on a site like theSedge.org? Because, we think that their vision to transition from a traditional business model to a social business model embodies the spirit of what we hope to see more of in the international business community: social mission-based businesses.
Two Wheel gear has its current bags constructed by a small manufacturing company in Calgary, Alberta. Finishing touches are added to the bags by the proprietors themselves. This arrangement has worked ok for the company over the last few years, but is unsustainable in the long run. In order to grow, Two Wheel Gear needs a new strategy.
Through Michael's family contact in Puerto Vallarta, Mexico, Two Wheel Gear is negotiating a deal to have the new bags manufactured by a very different kind of workshop.
This workshop will be set-up and administered by a non-profit (NGO) organization known as 'The families of Esperanza'. This NGO currently provides social welfare programs for low-income families, such as food and clothing subsidies, daycare assistance, computer and language classes, youth activities, and housing, among others. There are over 200 families benefiting from these services.
Right now, the families' main source of income is derived from sorting recyclable material at a garbage dump overlooking the posh resort area of Puerto Vallarta, Mexico. The workshop will change that for some of the families.
By providing honest work and fair paying jobs, the workshop will give families an otherwise unattainable chance to increase their skills and income; and with Two Wheel Gear providing its business, this workshop will be able to provide more jobs to an underemployed populous, thus making Two Wheel Gear a proper, triple-bottom-line social business.
Want to know more? Want to buy their classic bag while they are still being made? Check out twowheelgear.com. They ship worldwide!