Ever wondered to yourself, "What is a manifesto and does my impact-driven brand need to have one?"
Some of the most memorable and successful companies are loud and proud to share exactly what they stand for. This often means declaring the values and philosophies that guide decisions made by leadership and employees every day.
This is why writing and publishing a manifesto is a powerful way for purpose-driven brands and social impact companies to build a movement, growing visibility to attract ideal customers to be part of the cause, not to mention increase enagement and retention of staff and attract values-aligned partners.
A good manifesto will help your organization be remembered and rally supporters around your impact mission, vision, and values.
Whether it's through an infographic, video, or simply a few paragraphs on your about page, declaring why you do what you do and how can be a magnet for customers, supporters, and partners alike.
What is a manifesto exactly?
I couldn't summarize the reasons behind a manifesto for change better than Acumen:
"The work of change can be bone-tiringly difficult. And there are no roadmaps, just a few newly worn paths in some places, wide open fields of possibility in others. With this understanding, Acumen decided to write a manifesto, a covenant of sorts, to help guide us through the tough decisions around investing in companies and leaders daring to serve the poor in genuine, empowering ways, not counterfeit, exploitive ways.  It is an aspirational document, a moral compass to ground us in the kinds of leaders we want to be. We find ourselves humbled at how far we sometimes fall short, and are constantly challenged to do better."
The book Brand the Change by Anne Miltenburg, defines a manifesto as a document that, "outlines your intentions and motivations. Writing a manifesto (with your team) and sharing it makes those intentions tangible and actionable."
Manifesto examples from socially responsible companies who are creating a positive impact
Here are 12 declarations of convictions and commitments from organizations doing good.
Davos Manifesto 2020: The Universal Purpose of a Company in the Fourth Industrial Revolution
"A company is more than an economic unit generating wealth. It fulfils human and societal aspirations as part of the broader social system. Performance must be measured not only on the return to shareholders, but also on how it achieves its environmental, social and good governance objectives. Executive remuneration should reflect stakeholder responsibility."
Cambio & Co.
"THINK LONG-TERM. It's easy to become misguided and misled, especially when you're a business that needs to survive and thrive. But we promise to stay focused – to follow the Patagonia philosophy and to make decisions that will see us through to the next 100 years. Because if we can't build something good that lasts, then we shouldn't build it at all."
Sustainable Web Manifesto
"The planet is experiencing unprecedented climate change and the Internet is both part of the problem and the solution… If the Internet was a country, it would be the 6th largest polluter in the world and is expected to grow considerably by 2030. If we embrace sustainability in our work, we can create a web that is good for people and planet."
Method Cleaning Company
"it's "everybody into the pool!"(we believe in spontaneous bursts of enthusiasm.)
we also believe in making products safe for every surface, especially earth's.
we consider mistakes little messes we can learn from; nothing that can't be cleaned up and made better."
Sugru: The Fixer's Manifesto
"Give your stuff a longer life. In a world that's full of waste, every fix counts.
Disposability is a choice. When we double the life of our things, we halve what goes to landfill.
Resist needless trends and upgrades. Fixing frees us from the tyranny of the new."

Creators for Good
"Creators for Good is not just a consulting company. It is a movement, of people willing to create a difference the world."
Acumen
"It starts by standing with the poor, listening to voices unheard, and recognizing potential where others see despair."
Danone
"PREPARING FOR TOMORROW IS THE BUSINESS OF TODAY. New ways can and will be found, to better serve this generation and the next, and to bring healthy, affordable food and safe water to the greatest number, across the world."
Ashoka U
"Ashoka U believes that in order to prepare students and universities to thrive in and make a positive contribution to today's world, higher education needs to shift from traditional (i.e. slow to change, siloed, risk-averse, hierarchical, rigid, bureaucratic) to more innovative and entrepreneurial (i.e. open to change, creative, collaborative, everyone contributing ideas)."
Frog Design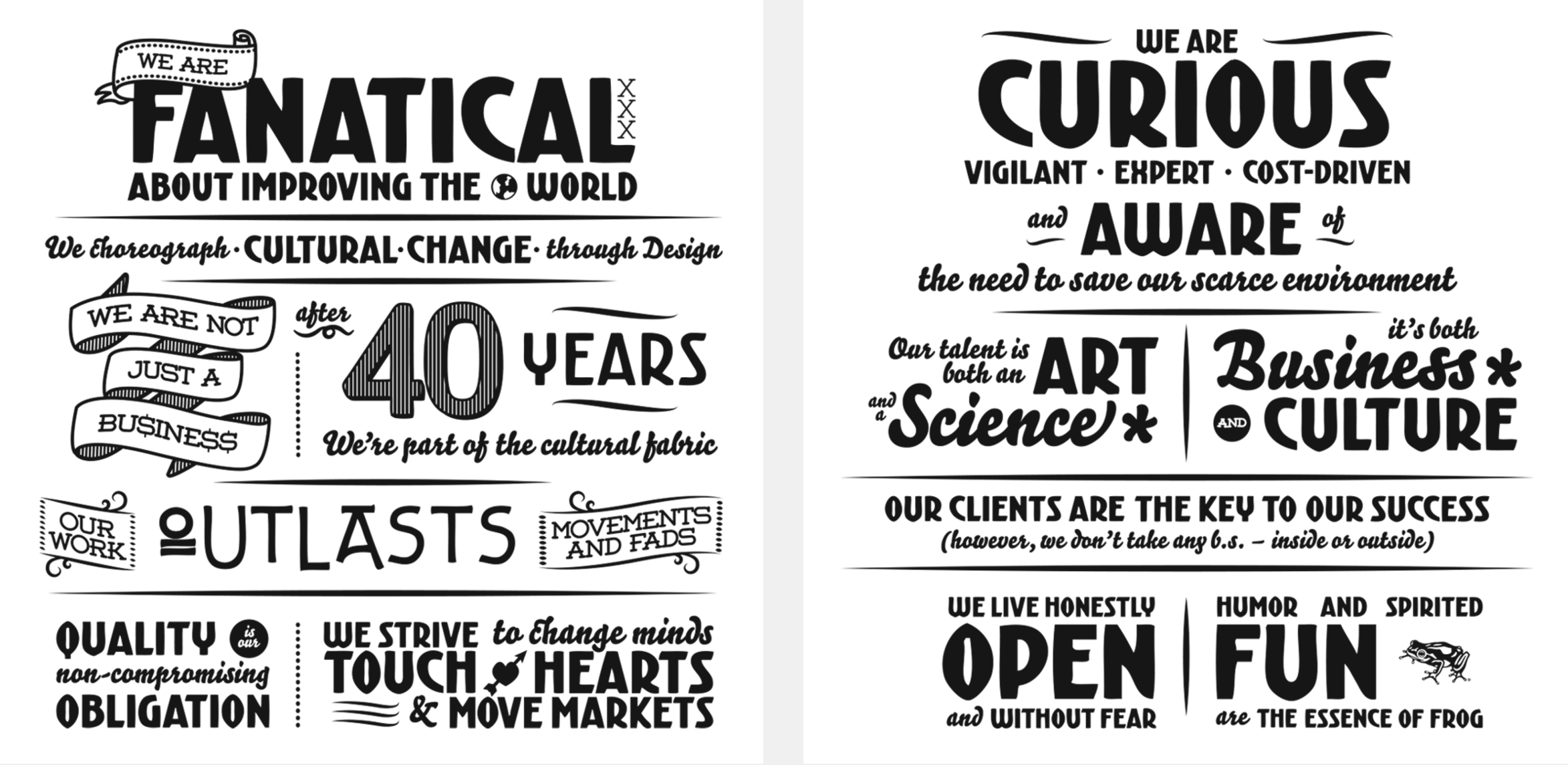 "We are fanatical about changing the world. We choreograph cultural change through design."
Changemakers Association
"Even if it's not always understood. Even if it's overwhelming. Even if it's lonely. Even if it's hard. Because it's meaningful to us and to the world. And it's worth it."
Holstee
Perhaps the most well-known manifesto out there – you can't deny reading this is a reminder of what it means to have a life well lived.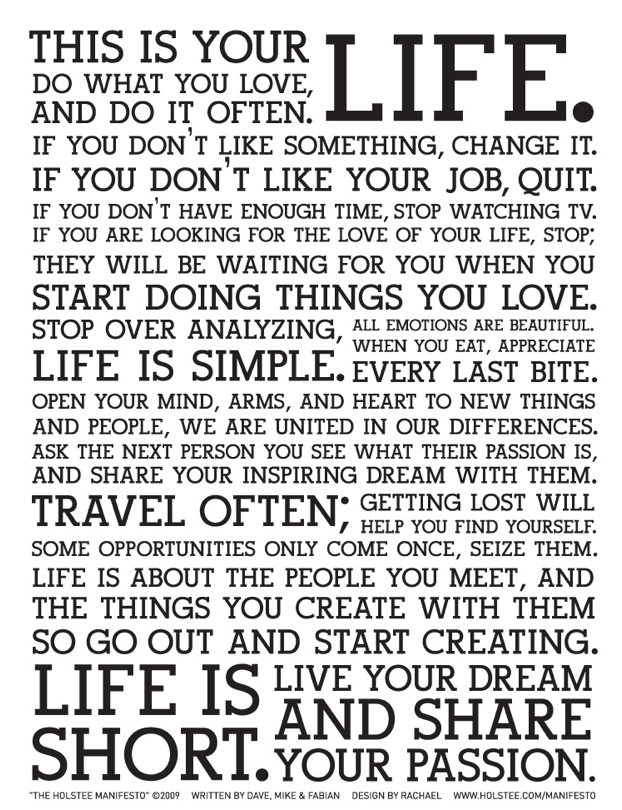 "Open your mind, arms, and heart to new things and people, we are united in our differences."
Tools if you're looking for a template to craft your impact business manifesto
Curious to explore about other companies with a social or environmental purpose at the core of their mission?
Learn about the social business models behind this list of social enterprise examples.
Have I missed any awesome manifestos that you know of (or created yourself!)?
Let me know in the comments!